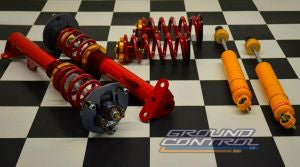 $2,738.00
$0.00
Mercedes Benz 190E Double Adjustable Race Shocks/Struts
2513.84
THIS KIT INCLUDES THE FOLLOWING: 
2 SHORT Koni Double Adjustable struts in Ground Control shortened strut housings.
Complete Shortened Front Strut Housing - Machined from seamless DOM 1026 steel alloy tubing. Heavy-duty spindle bracket welded on. Our design is much stronger and more rigid than any of the aftermarket housings that are actually modified stock housings, with skip-welded gussets.
Koni Race Double Adjustable Front Strut - Struts are externally adjustable from underneath the hood. This strut is prepared for coil over use, and eliminates machining of critical suspension components.
Ground Control Threaded Sleeves - This system is designed to eliminate stress risers caused by machining notches into the strut housing. Unlike other companies that claim superiority by cutting threads into a critical component of the suspension, Ground Control uses engineering common sense to maximize the strength of the suspension.
Ground Control Adjustable Spring Perch - A unique design, which uses an Allen head bolt to clamp the single threaded perch into the correct position. No secondary pieces are needed to "jam" the threaded perch into position.
2 SHORT Koni single adjustable rear shocks
1 Pair front Camber Plates
4 Eibach ERS springs, any racing spring rate
4 Ground Control bump stops (made in Germany)
2 Rear ride height adjusters.
* Suspension is shipped completely assembled and preadjusted*
Please note: These kits are intentionally equipped with a rigid camber/caster plate design for on-track applications. Because of this feature, some noise may be transmitted from strut shafts, sway bar links, tires, brakes, springs, wheel bearings, road surfaces, etc.