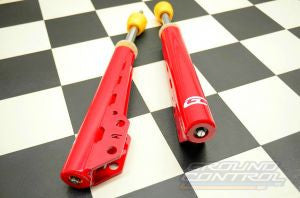 $714.00
$0.00
82-92 Chevrolet Camaro/Pontiac Firebird Front Strut Assemblies
2505.13
Introducing the Ground Control exclusive 1982-1992 Camaro & Firebird Front Strut Housings & Koni Dampers.
Introducing the Ground Control exclusive 1982-1992 Third Generation Camaro & Firebird front strut housings with Koni dampers.:
• Extensive design and testing has gone into bringing you one of the most complete and competent suspensions available for your Third Gen F-Body. From a mild street cruiser, to all out track car, these struts can be configured to handle whatever your needs may be. These custom strut housing are fabricated from 1026 DOM steel. They have skip welded 0.250 flanges to reduce flexing while also adding strength, and are much stronger and weigh less than the stock struts.
• Our precision jig assembled housings are custom fabricated to provide over 1 inch more bump travel, and reduced suspension droop. Koni strut inserts, specially valved by Koni of Holland for Ground Control, or Koni race strut inserts are provided (depending on suitability with your spring rate). The combination of these parts not only allows you to maintain suspension bump travel when your vehicles suspension is lowered, but is also provide a significant handling increase.
• This isn't a "one size fits all" suspension, this is a complete front strut assembly. Each kit is built specifically for you and your intended use of your car. Because we produce the struts in house, we can offer our customers their choice of damper inserts and even your choice of powdercoating colors. These struts come completely pre-assembled, no cutting, welding or modifications are needed. You have your choice of Koni GC, Race or Double Adjustable dampers. We finish the struts off with Ground Control bump stops, and even pre-adjust the Koni dampers based on your spring rates.
• Ground Control works very closely with Koni USA to make our custom valved dampers to the standards that you demand. Lifetime guarantee on everything! No excuses about "racing" or "special". If anything fails, while being correctly installed, it will be taken care of, period. We can only have a guarantee like this because every single part of the Ground Control Strut Kit is made either by us, or someone we trust. Everything is made in the USA or Koni Holland.