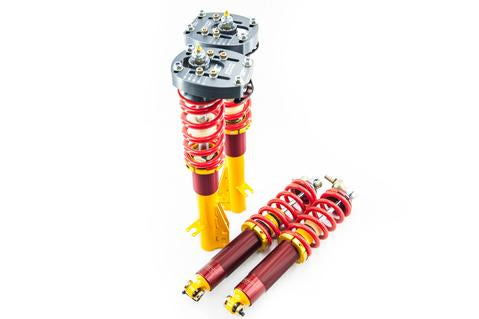 $2,529.00
$0.00
944/968 - Complete Front Struts W/Rear Coilover Shocks
7020.93
This kit is designed to use 944 'Turbo' Aluminum Rear Control Arms
Pre-assembled with camber plates and matching rear shocks. No spring compressor, cutting, welding or modification needed. Fabricated from 1026 DOM steel, the Ground Control 944 strut is much stronger than the stock strut. Skip welded 0.250 flanges reduce flex while adding strength. 1 inch shorter than stock, reduced droop and Koni strut inserts specially valved by Koni of Holland for Ground Control or Koni race strut inserts are provided, depending on suitability with your spring rate. POC, PCA and SCCA legal. This package price is significantly discounted, and is intended for club racing and track days.
Camber/Caster plates.
Two choices, bottom mount or top mount. Each is shown in the large picture. Bottom mount style does not have as much suspension travel, so the top mount plate with the integral stress bar mount is desired, especially for cars racing in a class where a very low car can be an advantage.
Rear Coil-over assemblies: *FOR USE WITH 944 REAR CONTROL ARMS*
We start with a Ground Control designed rear lower shock mount. Machined from high carbon steel, and using a grade 8 bolt, this rear lower mount is designed to carry the weight of the car after springs are added to the shock. We utilize a Koni SINGLE ADJUSTABLE mono tube rear shock, adjustable for rebound damping. This shock is available in our standard default damping for standard width cars, or heavier damping for wider cars with higher spring rates. The Koni shock is mounted inverted for less unsprung weight, and features the exclusive GC coil-over hardware with single-locking sleeve and and your choice of Eibach race spring. The same kit is used to supplement rear torsion bars (PCA Stock Class) or by choosing a different spring rate, the rear torsion bars can be removed completely. If you are considering over 700 pound rear springs, we recommend fabricating a double shear rear lower mount to supplement our lower mount.