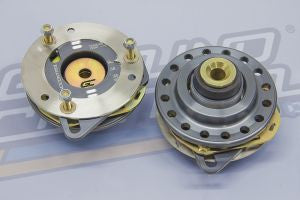 $549.00
$0.00
BMW 1M Camber/Caster Plate-STREET (Pair) **BACK IN STOCK!**
cp1mstreet-1
These plates feature over 26mm of total camber adjustment with the ability to make corrective caster changes to equalize side-to-side caster in the stock position.
Other features include replaceable waterproof German axial load bearings, and urethane bushings for long life, less deflection, and a smooth silent ride on stock or stock sized aftermarket springs.
All components are anodized or zinc plated for corrosion resistance.
We also offer our lifetime guarantee!
• A clean sheet design for street cars, not an adapted spherical race plate. 
• Waterproof, German-made, axial load steering bearings.
• Allows for up to 26mm total camber adjustment. 
• Unique slot design allows for caster correction.
• Urethane center mounts reduce NVH, yet do not flex.
• All components plated or anodized for corrosion resistance.
• Zinc plated mounting bracket for ease of install and adjustment.
• Reuses stock rubber spring pad for noise isolation. 
Please note: this is the only version that works with stock springs.