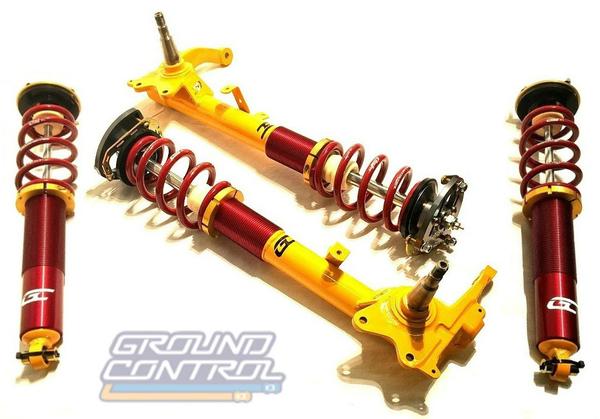 $2,309.00
$0.00
BMW E21 75-83 320i E21 Complete Coilover Suspension Kit
2010.91
This kit requires that you send your car's original strut housings to us to be shortened and modified. You can find instructions on how to send your housings to us under the "Tech Talk" tab at the top of the website.
Ride Feel Options
In the drop-down menu next to the image of the product, please select from the following choices:

Select Option "1" = Stock Ride 
OR
Select Option "2" = Sport Ride 
OR
Select Option "3" = Aggressive Ride
OR
Select Option "4" =  Track Days Ride
OR
Select Option "5" = Race Car Ride  
Expected ride height change from 0 to 2 inches. Lower than 2 inches can cause rear alignment problems.
*This kit price INCLUDES LABOR for GC to shorten and powdercoat your struts with 50mm tubes as pictured. You must send your cleaned, bare E21 struts to GC. Turnaround time is approximately 6 weeks*
Ground Control Coilover Kits
This coil-over kit gives you the option to customize the ride height of your vehicle. After several years of use in racing applications, Ground Control spring kits have been adapted for street use. Most other spring kits offer only one set ride height when installed. The Ground Control system's unique design allows for easy adjustment. Simply lift the corner(s) of the vehicle that you wish to adjust and spin the adjustable spring seat up or down to raise or lower the vehicle*. Ground Control spring kits are also designed to be used with either stock or aftermarket shocks.
Springs: All of our ride height adjustable kits now exclusively feature Ground Control springs, manufactured by Eibach USA. A broad selection of street spring rates are available. All Eibach / GC springs offer a lifetime warranty against spring rate change and sagging.

Adjusters: All adjusters consist of a threaded sleeve and adjustable spring seat. And are made using high strength 6061-T6 aluminum; anodized for greater durability and appearance. The threads on the adjusters are square cut which locks the adjustable spring seat in place under load. For further precaution, a setscrew in the adjustable spring seat can be used to secure adjustment. Upper spring perches are used to insulate the spring.

Rear upper shock mounts: Billet aluminum rear upper mounts eliminate the failure prone stock pieces. Bumps stops are provided and assembled. Urethane upper spring pads are used to insulate the spring.

Bump Stops: This kit includes four Ground Control bumpstops, designed and manufactured for GC, andmatched to your springs.

Camber Plates: HYBRID Camber / Caster Plates A special version of our camber/caster plates, toned down for dual-purpose cars. Uses a proprietary upper perch with a urethane spring insulator. More camber adjustment than stock, caster adjustment, aircraft bearings, engraved with calibrated degrees. Every component is anodized or plated, including fasteners. Adds extra travel to avoid excessive bottoming out, this is a very well engineered product. .
Camber and caster are separately adjustable by sliding the mounts, without removing any components from the car. 
The Ground Control camber plates feature two sets of bearings, a proprietary bearing, made to our specs by Aurora in the USA, which allows for articulation of the shock shaft. This spherical bearing is very understressed, as the GC design does NOT support the weight of the car on the spherical bearing. Instead, the weight of the car is supported by a completely separate articulating needle bearing, which is also manufactured for Ground Control in the USA.

(the camber plates were formerly an option, now they are standard equipment at a lower price)
Ground Control works very hard with Eibach USA to make these springs to the standards that you demand. Lifetime guarantee on everything, not just springs. No excuses about "racing" or "special". If anything fails, while being correctly installed, it will be taken care of, period. We can only have a guarantee like this because every single part of the Ground Control Street coil-over kit is made by us or someone we trust.

The shocks and struts in this kit are not the standard off-the-shelf Koni struts for the e21. The front struts are adjustable and are shortened with special valving designed by Ground Control. The rear shocks have a slightly more aggressive, but still streetable damping like the front struts.




PLEASE REFERENCE OUR FAQ ABOUT HOW TO SHIP YOUR STRUTS TO US!! CLICK

 

HERE

 

FOR INSTRUCTIONS ON HOW TO SEND YOUR HOUSINGS TO US