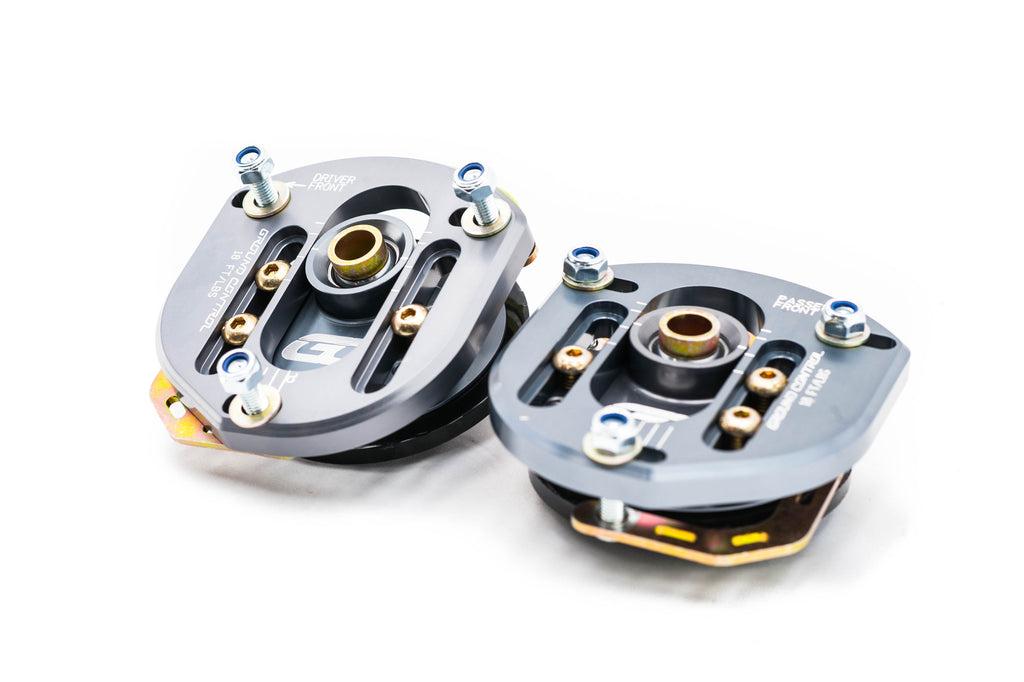 $439.00
$0.00
BMW E30 Camber/Caster Plate, SCCA Street Prepared Class
ccpe30SP-30
Ground Control racing caster / camber plates. Not intended for Street/Sport vehicles. (please see "cpe30touring")
For dual-purpose vehicles, we offer a special version of these race camber/caster plates. They are toned down and use a proprietary upper perch with a urethane spring insulator to help limit NVH.These "Hybrid" versions will not work with the stock I.D. springs, only 2.5" I.D. springs. 
This is a clean page design, and allows more camber and caster adjustment than any other camber plate available without modifying the strut towers. Within the SCCA rules, it is illegal to bend, cut or reweld the struts for more negative camber, so this is the legal way to go fast.
Ground Control Racing Camber / Caster Plates offer more camber adjustment than stock, caster adjustment, aircraft bearings, engraved with calibrated degrees, and steel reinforcement. Every component is anodized or plated, including fasteners. Adds extra travel to avoid excessive bottoming out, this is a very well engineered product. The priority of this design is to allow fast, repeatable alignment changes at the track.
Ground Control camber plates feature two sets of bearings, a proprietary bearing, made to our specs by Aurora in the USA, which allows for articulation of the shock shaft. This spherical bearing is very understressed, as the Ground Control design does NOT support the weight of the car on the spherical bearing. Instead, the weight of the car is supported by a completely separate articulating needle bearing, which is also manufactured for Ground Control in the USA.Be very wary of imitations, and if in doubt, you can ask us to prove that we use Aurora bearings. Other companies use bearings from China, but say they are using Aurora or USA bearings. Ground Control can PROVE what we claim, because USA still makes the best bearings in the world.