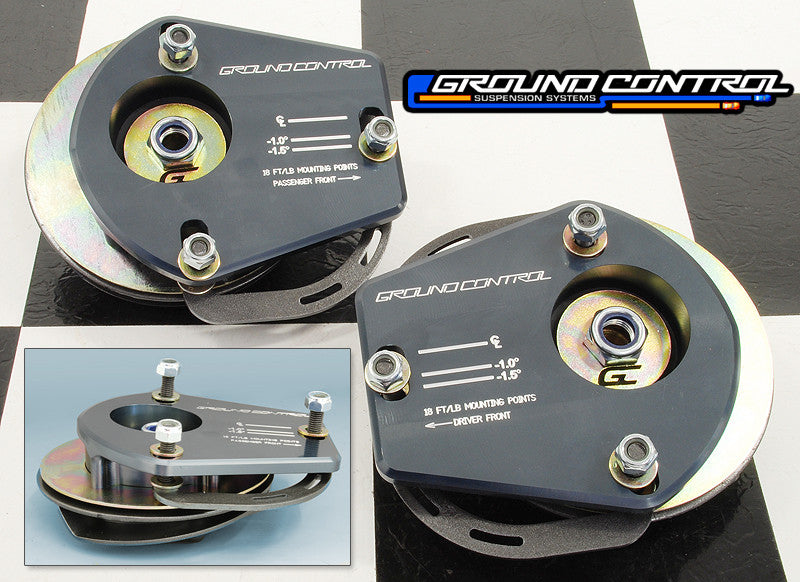 $439.00
$0.00
BMW E36 M3 Camber Plate-SPORT (92-99 M3) (Pair)
CCPE36M3STREET-25
A special version of our camber/caster plates, toned down for dual-purpose cars. Uses a proprietary upper perch with a urethane spring insulator. A work of art, carved from a single piece of billet aluminum. That is one way to describe the new street camber plate from Ground Control. 
Fits entirely within the stock reinforcements, and is adjustable through a range of 0.5 to -2.6, (at lowered ride height) and can be reversed for zero camber like the stock 96-99 M3. No bearings, and is rebuildable unlike the stock parts. 
The stock 1995 M3 is black steel, 140mm outside diameter. 
The stock 96-99 M3 top perch is black steel, 130mm outside diameter. 
GC RACE (or hybrid) camber/ caster plates have a large range of adjustment for caster. This is because the type of person who has a true coilover kit, where the spring rate can be selected and changed, may also be able to utilize the range of caster for experimentation and adjustment. 
The GC SPORT camber plates have a range of caster adjsutment that is intentionally limited. The caster range allows the car to be aligned, and adjusted, but not enough range for experimentation. The reason is that a person who does not choose their spring rate, is not the person who should be experimenting with caster. Caster ALWAYS changes the toe-in and bumpsteer, and the entire car must be realigned after adjusting. The intentionally limited range of the SPORT camber plates allows the caster to be adjusted to compensate for factory deviations, but without allowing the caster to be adjusted to a specification that is out of the comfort zone of a driver who is not used to the pitfalls of experimentation and testing.