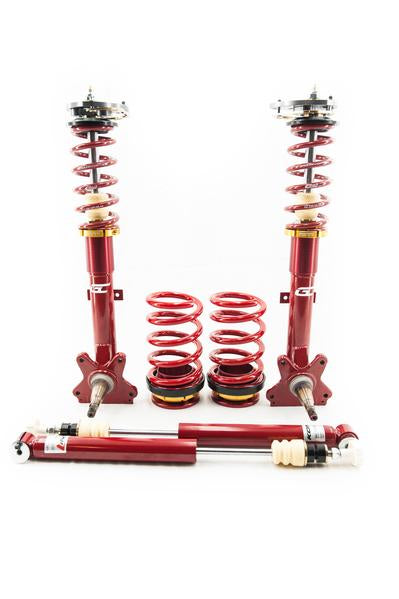 $2,529.00
$0.00
BMW E9 Complete Coilover system
bmwe9CC-30
This kit requires that you send your car's original strut housings to us to be shortened and modified. You can find instructions on how to send your housings to us under the "Tech Talk" tab at the top of the website.
E9 Street or Race Coilover kit, (uses EXISTING strut housings on your car)
THIS KIT INCLUDES THE FOLLOWING: 
2 Koni single adjustable strut inserts, Custom valved for GC, bolted into your existing housings
Koni Single Adjustable Front Strut - Struts are externally adjustable from underneath the hood, even with the factory strut brace. This strut is prepared for coil over use, and eliminates machining of critical suspension components.
Ground Control Threaded Sleeves - This system is designed to eliminate stress risers caused by machining notches into the strut housing. Unlike other companies that claim superiority by cutting threads into a critical component of the suspension, Ground Control uses engineering common sense to maximize the strength of the suspension.
Ground Control Adjustable Spring Perch - A unique design, that uses an allen head bolt to clamp the single threaded perch into the correct position. No secondary pieces are needed to "jam" the threaded perch into position. This method of clamping onto the threads also prevents sand, grit, and water from getting into the threads, which is a common problem with jam nuts.
2 Koni single adjustable rear shocks
Koni Single Adjustable Rear Shocks - Preadjusted by Ground Control to match your rear spring rates using our shock dyno. Your choice of two adjustable versions: The standard version of this kit is the "top-adjust" version, which adjusts from inside the trunk or under the hood with no tools needed.
1 Pair front Camber Plates (Race or Hybrid)
Ground Control Racing Camber/Caster Plates - More camber adjustment than stock, caster adjustment, aircraft bearings, and engraved with calibrated degrees. Every component is anodized or plated, including fasteners. Adds extra travel to avoid excessive bottoming out, this is a very well engineered product.
Camber and caster are separately adjustable by sliding the mounts, without removing any components from the car. The priority of this design is to allow fast, repeatable alignment changes at the track.
The Ground Control camber plates feature two sets of bearings, a proprietary bearing, made to our specs by Aurora in the USA, which allows for articulation of the shock shaft. This spherical bearing is very understressed, as the Ground Control design does NOT support the weight of the car on the spherical bearing. Instead, the weight of the car is supported by a completely separate articulating needle bearing, which is also manufactured for Ground Control in the USA.
2 Ground Control or Eibach ERS springs, (not pro-kit), with a street or race spring rate
Eibach Springs - Almost any spring rate is available. Eibach springs are made on German machines both in the USA and in Germany, however all Eibach springs have a lifetime guarantee against sagging, rate change, or any manufacturing or material failure. Lifetime guarantee. Compare!
4 Ground Control bump stops (made in Germany)
Ground Control Bump Stop - We do not just ask you to reuse your stock bump. The stock bump stop is designed for stock suspension; we provide a bump stop designed to work with our suspension. These are soft foam, same quality as OEM BMW parts, but made to our specs in Germany. Our race bump stops are even different than our street bump stops.
2 Eibach or SSS rear springs, street or race rate
Rear ride height is adjusted by using the factory spring pads. We have been unable to make a satisfactory (quiet) adjustable height kit for the 2002 rear


* Suspension is shipped completely assembled and preadjusted * 

This kit price INCLUDES LABOR for GC to shorten and powdercoat your struts with 50mm tubes as pictured. You must send your cleaned, bare E9 struts to GC.
 PLEASE REFERENCE OUR FAQ ABOUT HOW TO SHIP YOUR STRUTS TO US!! CLICK HERE FOR INSTRUCTIONS ON HOW TO SEND YOUR HOUSINGS TO US