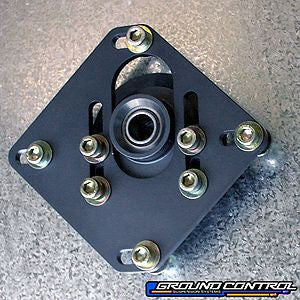 $384.00
$0.00
Camber/Caster Plate- Neon Front (Pair)
CCPNF-1
Ground Control Racing Camber /Caster Plates
 More camber adjustment than stock, casteradjustment, aircraft bearings.
Every component isanodized or plated, including fasteners. Adds extra travel to avoidexcessive bottoming out, this is a very well engineered product. Addsan extra bolt for strength, but may be omitted for classrules.
Camber and caster are separately adjustableby sliding the mounts, without removing any components from the car.The priority of this design is to allow fast, repeatable alignmentchanges at the track.
The Ground Control camber plates featuretwo sets of bearings, a proprietary bearing, made to our specs byAurora in the USA, which allows for articulation of the shock shaft.This spherical bearing is very understressed, as the Ground Controldesign does NOT support the weight of the car on the spherical bearing.Instead, the weight of the car is supported by a completely separatearticulating needle bearing, which is also manufactured for GroundControl in the USA.