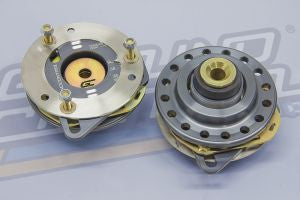 $549.00
$0.00
Camber/Caster Plate-STREET BMW 1M (Pair)
cp1mstreet
These plates feature over 26mm of total camber adjustment with the ability to make corrective caster changes to equalize side-to-side caster in the stock position.
Other features include replaceable waterproof German axial load bearings, and urethane bushings for long life, less deflection, and a smooth silent ride on stock or stock sized aftermarket springs.
Our camber plates are also engraved with the Ground Control logo and markings which can be used to locate the plate in the stock position for easy, repeatable, adjustment from street to track and back.
All components are anodized or zinc plated for corrosion resistance.
We also offer our lifetime guarantee!
• A clean sheet design for street cars, not an adapted spherical race plate. 
• Waterproof, German-made, axial load steering bearings.
• Allows for up to 26mm total camber adjustment. 
• Unique slot design allows for caster correction.
• Urethane center mounts reduce NVH, yet do not flex.
• All components plated or anodized for corrosion resistance.
• Zinc plated mounting bracket for ease of install and adjustment.
• Reuses stock rubber spring pad for noise isolation. 
Please note: this is the only version that works with stock springs.