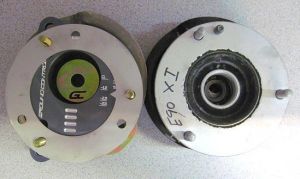 $439.00
$0.00
Camber/Caster Plate-STREET BMW E90 XI (Pair)
ccpe90xi-1
These plates are designed for use with the E90 XI only.
The Ground Control STREET/TOURING plate, a special version of our camber/caster plates, toned down for dual-purpose cars. Uses a proprietary upper perch which can reuse the stock spring insulator. A work of art, carved from a single piece of billet aluminum. That is the only way to describe this new street camber plate from Ground Control.
Fits entirely within stock reinforcements, and is adjustable through a range of center to about -3 degrees, (at lowered ride height) and can be reversed.  There is NO CHANGE in ride height. No central bearings, yet using a waterproof German steering bearing which is rebuildable unlike the stock parts. 
The GC STREET camber plates have a range of caster adjustment that is intentionally limited. The caster range allows the car to be aligned, and adjusted, but not enough range for experimentation. The reason is that a person who does not choose their spring rate, is not the person who should be experimenting with caster. Caster ALWAYS changes the toe-in and bumpsteer, and the entire car must be realigned after adjusting. The intentionally limited range of the STREET camber plates allows the caster to be adjusted to compensate for factory deviations, but without allowing the caster to be adjusted to a specification that is out of the comfort zone of a driver who is not used to the pitfalls of experimentation and testing.
TECHNICAL SPECIFICATIONS:
Camber range: 6mm positive, 24mm negative, 30mm total.
Caster range: 22mm positive.

Torque camber plate mounting nuts to 18ft/lbs using properly calibrated torque wrench. DO NOT USE PNEUMATIC TOOLS
All Ground Control products carry a lifetime guarantee against defects when installed and maintained correctly. We strongly recommend that all of our products be installed by a competent, qualified mechanic.