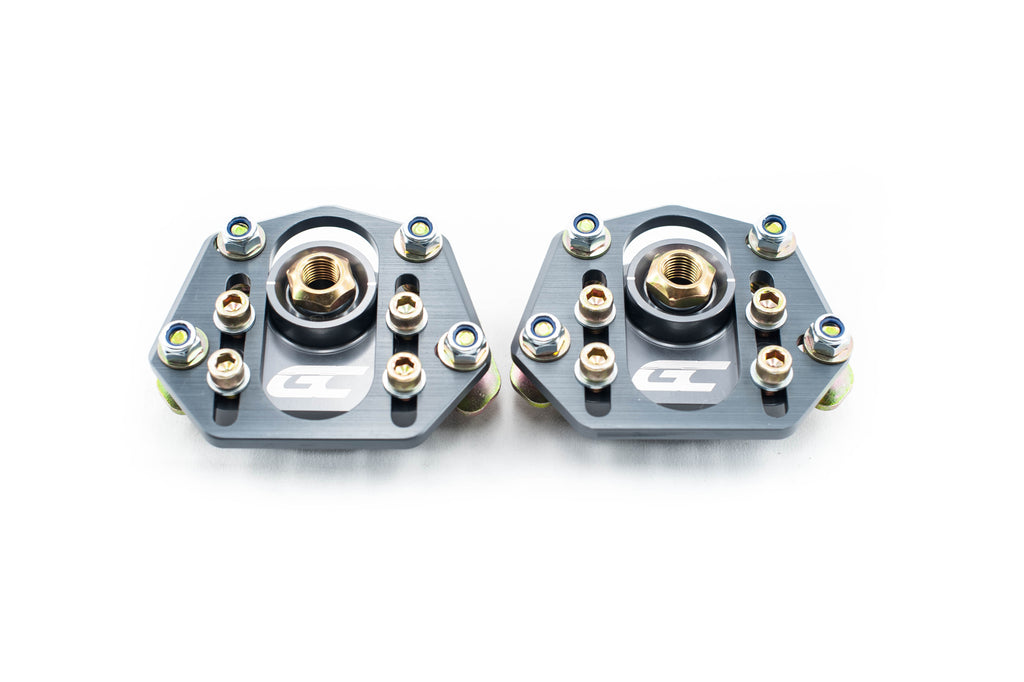 $384.00
$0.00
Camber/Caster Plate, Z Car (Pair)
CCPZ-1
Ground Control Racing Camber / Caster Plates
Adds camber and caster adjustment, 100% aircraft bearings. (front and rear fitment available)
This kit is designed to bolt into the Z, and no welding is required*. The reason for this is that the Z cars have several layers of sheetmetal in the strut tower, so any welding in the strut area is bad engineering practice.
Every component is anodized or plated, including fasteners. Adds extra travel to avoid excessive bottoming out, this is a very well engineered product.
Camber and caster are separately adjustable by sliding the mounts, without removing any components from the car. The priority of this design is to allow fast, repeatable alignment changes at the track.
The Ground Control camber plates feature two sets of bearings, a proprietary bearing, made to our specs by Aurora in the USA, which allows for articulation of the shock shaft. This spherical bearing is very understressed, as the Ground Control design does NOT support the weight of the car on the spherical bearing. Instead, the weight of the car is supported by a completely separate articulating needle bearing, which is also manufactured for Ground Control in the USA.
*There is NO welding required for the GC Z camber/caster plates, because the Z cars are one of the very worst cars to weld on (lots of undercoating between several layers of sheet metal).
There IS drilling and cutting involved. The camber plate and strut tower area on Z cars is pretty complicated, so we actually designed the GC camber/caster plate to be easy to install as part of the original design parameters. One example is that the mounting holes can be drilled without removing the front fenders. Many other Z camber plates require the front fenders to be removed in order to drill under the flange that protrudes into the engine bay.
Essentially what is done is that a series of holes are drilled according to the directions, and then the holes are "connected" with a jigsaw. The resulting cutout is the area in which the camber and caster are adjusted (left-right, front-rear).