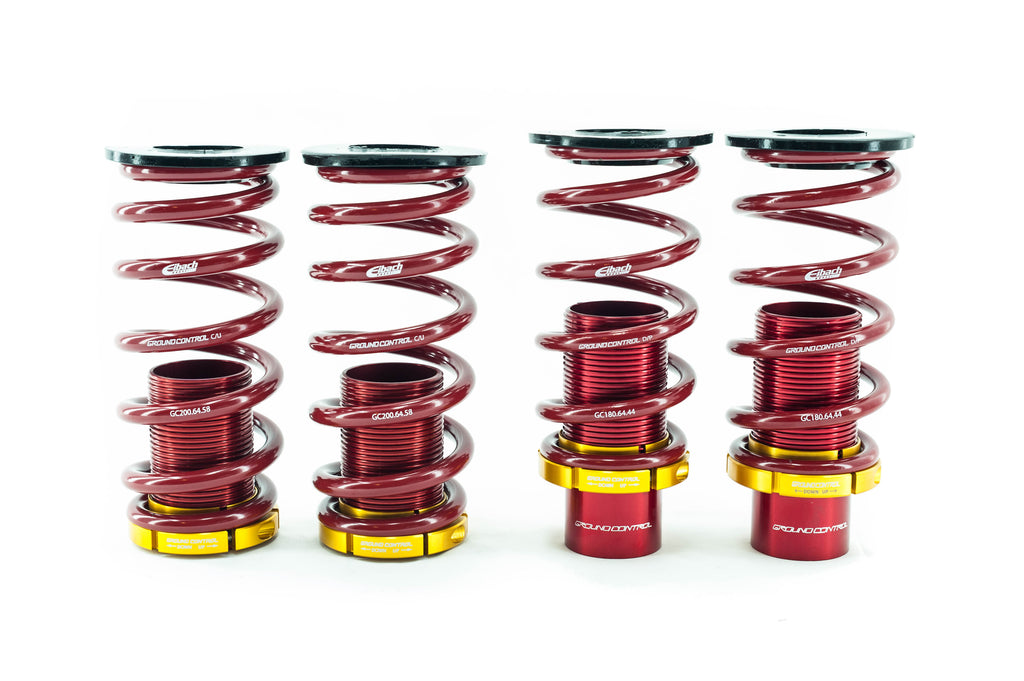 $428.00
$0.00
92-00 5th / 6th Generation Honda Civic / Del Sol Coilover Conversion kit (LIMITED EDITION)
4530limited
This kit fits Honda Civic/ Del Sol 92-00 with stock style shocks ONLY (please specify shock type before ordering, do not fit Koni Sport or Bilstein, see 4530custom)
Expected ride height change from .5 to 4 inches
Ground Control Spring Kits
This spring kit gives you the option to customize the ride height of yourvehicle. After several years of use in racing applications, GroundControl spring kits have been adapted for street use. Most other spring kits offer only one set ride height when installed. The Ground Control system's unique design allows for easy adjustment. Simply lift the corner(s) of the vehicle that you wish to adjust and spin the adjustable spring seat up or down to raise or lower the vehicle*. Ground Control spring kits are also designed to be used with either stock or aftermarket shocks.
*Some applications require the use of a provided wrench.
Springs: We are pleased to announce that Eibach has chosen Ground Control as the west coast distributor for their ERS (Eibach Race Spring) line ofsprings. All of our ride height adjustable kits now exclusively feature Eibach springs. All racing and street/show spring rates are available. All Eibach springs offer a lifetime warranty against spring rate change and sagging.
Adjusters: All adjusters consist of a threaded sleeve and adjustable spring seat. Andare made using high strength 6061-T6 aluminum; anodized for greaterdurability and appearance. The threads on the adjusters are square cut which locks the adjustable spring seat in place under load. For further precaution, a setscrew in the adjustable spring seat can be used to secure adjustment. Upper spring perches are used to insulate the spring.
Ground Control works very hard with Eibach USA to make these springs to thestandards that you demand. Lifetime guarantee on everything, not justsprings. No excuses about racing or special. If anything fails, while being correctly installed, it will be taken care of, period. We can only have a guarantee like this because every single part of the Ground Control Street coil-over kit is made by us or someone we trust. None of these parts are made in Taiwan. Everything is made in the USA.