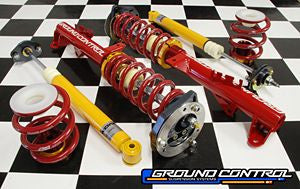 $2,078.00
$0.00
Z3M Full Coilover Kit
2025.78
THIS KIT INCLUDES THE FOLLOWING: 
2 SHORT Koni single adjustable struts in Ground Control shortened strut housings.
Complete Shortened Front Strut Housing - Machined from seamless DOM 1026 steel alloy tubing. Heavy-duty swaybar bracket welded on. Our design is much stronger and more rigid than any of the aftermarket housings that are actually modified stock housings, with skip-welded gussets and and all original brake line and abs tabs retained.
Koni Single Adjustable Front Strut - Struts are externally adjustable from underneath the hood, even with the factory strut brace. This strut is prepared for coil over use, and eliminates machining of critical suspension components.
Ground Control Threaded Sleeves - This system is designed to eliminate stress risers caused by machining notches into the strut housing. Unlike other companies that claim superiority by cutting threads into a critical component of the suspension, Ground Control uses engineering common sense to maximize the strength of the suspension.
Ground Control Adjustable Spring Perch - A unique design, which uses an Allen head bolt to clamp the single threaded perch into the correct position. No secondary pieces are needed to "jam" the threaded perch into position.
2 SHORT Koni single adjustable rear shocks
Koni Single Adjustable Rear Shocks - Made in Holland and custom valved to GC specs. Shorter than standard length, with reduced droop length. Preadjusted to match rear spring rates using our shock dyno. Adjusts from inside the trunk with no tools needed. (standard Koni must be removed to adjust)
1 Pair front Camber Plates
Ground Control Racing Camber / Caster Plates - More camber adjustment than stock, caster adjustment, aircraft bearings, engraved with calibrated degrees, with stainless steel reinforcement. Every component is anodized or plated, including fasteners. Adds extra travel to avoid excessive bottoming out, this is a very well engineered product. The stainless steel reinforcement prevents electrolysis between the steel fender and the aluminum camber plate.
Camber and caster are separately adjustable by sliding the mounts, without removing any components from the car. The priority of this design is to allow fast, repeatable alignment changes at the track.
The Ground Control camber plates feature two sets of bearings, a proprietary bearing, made to our specs by Aurora in the USA, which allows for articulation of the shock shaft. This spherical bearing is very understressed, as the Ground Control design does NOT support the weight of the car on the spherical bearing. Instead, the weight of the car is supported by a completely separate articulating needle bearing, which is also manufactured for Ground Control in the USA.
4 Eibach ERS springs, any racing spring rate
Eibach Springs - Any spring rate is available. Eibach springs are made on German machines both in the USA and in Germany, however all Eibach springs have a lifetime guarantee against sagging, rate change, or any manufacturing or material failure. Lifetime guarantee. Compare!
4 Ground Control bump stops (made in Germany)
Ground Control Bump Stops - We do not just ask you to reuse your stock bump. The stock bump stop is designed for stock suspension; we provide a bump stop designed to work with our suspension. These are soft foam, same quality as OE BMW parts, but made to our specs in Germany. Our race bump stops are even different than our street bump stops.
2 Rear Ride Height Adjusters
Ground Control Rear Ride Height Adjustment Kit - Billet aluminum threaded adjusters bolt on top of the rear control arm. The e36 M3 has a larger diameter rear axle than the standard e36, so it is necessary for clearance to not have any portion of the adjuster below the control arm.
1 Pair rear upper shock mounts (urethane)
Ground Control Rear Shock Mount - Billet aluminum, urethane bushings, pre-assembled. Includes gaskets and reinforcements.
* Suspension is shipped completely assembled and preadjusted*